Welcome, fellow dog lovers, to a paw-some discussion on finding the best dog bed for Pomeranian! We understand the importance of finding a comfortable and suitable bed for your furry friend. Pomeranians may be small, but they have big personalities and unique needs.
One of the most important investments you can make for your Pomeranian is a good-quality dog bed. Not only does a good bed provide your pup with a cozy place to rest and sleep, but it can also benefit their physical health and emotional well-being.
In this article, we'll explore why it is so important, and what you should look for when choosing a high-quality dog bed for your furry friend. So, let's dive in!
Learn to control Pomeranian Barking.
Top Picks for Best Dog Bed for Pomeranian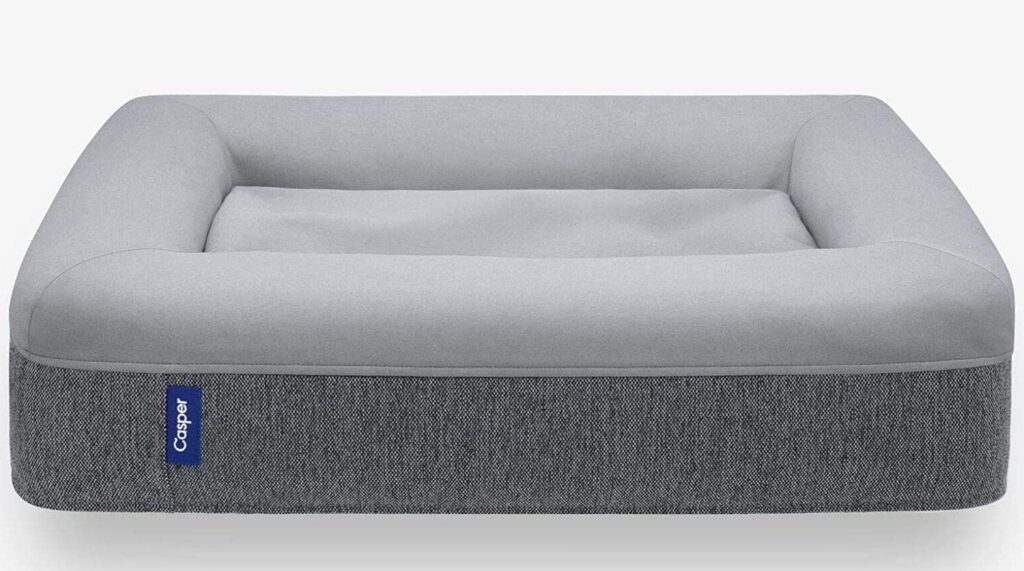 As a dog behaviorist, I know the importance of a good quality bed for your furry friend, and the Casper Dog Bed is our top-pick dog bed for Pomeranians. The bed is made with pressure-relieving memory foam and durable support foam, providing ultimate comfort and support for your pup. The bed also features excess material on top, perfect for dogs that like to dig and scratch to make the perfect sleeping spot, and supportive foam bolsters on the mattress to create a safe space for dogs to lay their heads.
The microfiber blended material used in the bed is designed to be durable and rip-resistant, ensuring it will stand up to even the most rambunctious of pups. And if your Pomeranian happens to make a mess on the bed, the removable and machine-washable cover is slobber-resistant and impenetrable to fur, making cleaning a breeze. The Casper Dog Bed comes in three sizes, making it easy to find the perfect fit for your furry friend.
In short, if you're looking for a high-quality dog bed that provides both comfort and support for your Pomeranian, the Casper Dog Bed, Plush Memory Foam, is an excellent choice. Your pup will thank you for it!
Pros
Comfortable memory foam
Scratch-friendly material
Supportive foam bolsters
Durable and rip-resistant
Removable, washable cover
Multiple size options
Available in Luxury colors and perfect for decorations
Cons

Finding the perfect bed for your furry friend can be challenging. The Laifug Orthopedic Foam Bed is designed to provide maximum comfort, support, and security. Its curved Smart Design conforms to your dog's habit of lying down, promoting better sleep and reducing joint pain. This is our second Top picks dog bed for Pomeranians.
One of the key benefits of this bed is its Orthopedic Foam bed, which provides exceptional support that won't flatten over time. This foam is designed to retain at least 90% of its shape and support for the next 3 years, ensuring that your Pomeranian always has a comfortable sleeping spot.
In short, the Laifug Orthopedic Memory Foam Bed is a great investment for Pomeranian owners who want to provide their furry friends with a comfortable and supportive sleeping spot. With its unique design, high-quality materials, and ease of maintenance, it is sure to become your dog's favorite spot in the house.
Pros
Smart design for maximum comfort and support
Orthopedic memory foam won't flatten
Retains shape and support for at least 3 years
Waterproof, tear-resistant cover
Removable and machine washable cover
Soft and comfortable microfiber cover
Suitable for dogs up to 200 pounds
Comes in multiple colors and sizes
Cons
May be too firm for some dogs
Higher price point
The PetFusion Ultimate Dog Bed is the third top dog bed for Pomeranians. This bed has a solid 4-inch memory foam base that provides superior overall comfort, reduces joint pain, and improves health, mobility, and energy. It also works as a calming bed for dogs who suffer from anxiety. The bed comes with recycled 'green' support bolsters that are generously filled, making it a perfect spot for your pet to snuggle in.
The smart design of the PetFusion Ultimate Dog Bed includes a water-resistant and tear-resistant cover that is also machine washable. The non-skid bottom ensures that the bed stays in place and won't slide around on hardwood or tile floors. The bed is also designed to blend in seamlessly with your home decor, so your pet's bed won't stand out like a sore thumb.
You can also have peace of mind knowing that the PetFusion Ultimate Dog Bed uses Certi-PUR-US Memory foam that doesn't contain any mercury, lead, formaldehyde, phthalates, or ozone depleters. It also passes stricter European REACH safety standards. This bed is perfect for small dogs as well as cats, with dimensions of 25 x 20 x 5.5 inches that can easily hold 50+ pounds.
Pros
Provides superior comfort
Reduces joint pain
Improves mobility and energy
Made with eco-friendly materials
Machine washable cover
Non-skid bottom keeps the bed in place
Designed to blend in with the home decor
Available in small to large dog breeds
Cons
If you looking for an average price range dog bed For Pomeranians then this bed is a great choice. It provides unparalleled support for deep, restful sleep. The high-density egg-crate foam is designed to distribute weight evenly and relieve pressure, making it perfect for dogs with joint pain.
The 4-sided bolster design of this bed promotes ultimate comfort and security, offering a variety of cozy positions for your pup to snuggle. Plus, the cushioned bolster shape is deeply filled to support your pet's head and neck for a more restful sleep.
With a waterproof liner to protect the foam mattress and a zippered cover that's machine washable, this bed is easy to clean and maintain. Plus, the non-skid bottom keeps your pet safe by reducing slips.
Pros
Unparalleled support
Relieves joint pain
4-sided bolster design
Waterproof liner
Easy to clean
Non-skid bottom
Available at an average price
Cons
Some dogs may not like the bolster design
Not suitable for dogs who chew or scratch their beds
The Best Friends by Sheri Original Calming Donut Dog Bed is the best dog bed for Pomeranians who love to curl up and feel secure while they sleep. The raised rim provides head and neck support, while the super-soft filling relieves joint and muscle pain for a better night's sleep.
It also features a high bolster around the circumference of the bed which adds security and support. The machine washable feature allows you to keep it clean with ease, ensuring your pet always has a spotless sleeping area. The neutral colors will easily match any décor while the unique shape gives it an eye-catching look that can't be ignored! With its combination of comfort, convenience, and style.
Pros
Round shape for better curling up
Raised rim for head and neck support
Super-soft filling for joint and muscle pain relief
Self-warming faux fur material
Deep crevices for burrowing and restful sleep
Water and dirt-resistant bottom to prevent messes
Safe for washing machine and dryer
Satisfaction guarantee with US-based customer service
Cons
May not be suitable for dogs who prefer flatbeds
Faux fur material may shed
Coolaroo's Original Cooling Elevated Dog Bed is a great choice dog bed for Pomeranian owners who want to provide their furry friend with a comfortable high place to rest. The bed's breathable high-density polyethylene fabric helps eliminate hot spots, ensuring your pup stays cool and comfortable. Plus, the elevated design promotes airflow on all sides of the bed, reducing pressure points and joint strain.
The lightweight powder-coated steel frame can withstand tough outdoor elements, making it a great choice for outdoor use. Additionally, the bed is suitable for dogs of all sizes, so you can use it for multiple pets if necessary. The recyclable, GREENGUARD-certified cover fabric is easy to clean and can be hosed off with water, making maintenance a breeze.
Pros
Elevated design promotes airflow
Breathable HDPE fabric
Easy to clean and maintain
Durable steel frame
Suitable for indoor and outdoor use
Good Option for Chewer
Cons
Not as cozy as cushioned beds
Some pets may not like the elevated design
Assembly required for setup
Considerations When Choosing the Best Dog Bed for Pomeranian
When it comes to choosing the right dog bed for your Pomeranian, there are several important factors to consider. Pomeranians are small dogs with specific needs when it comes to bedding. It's important to choose a bed that provides comfort, and support, and meets their unique requirements.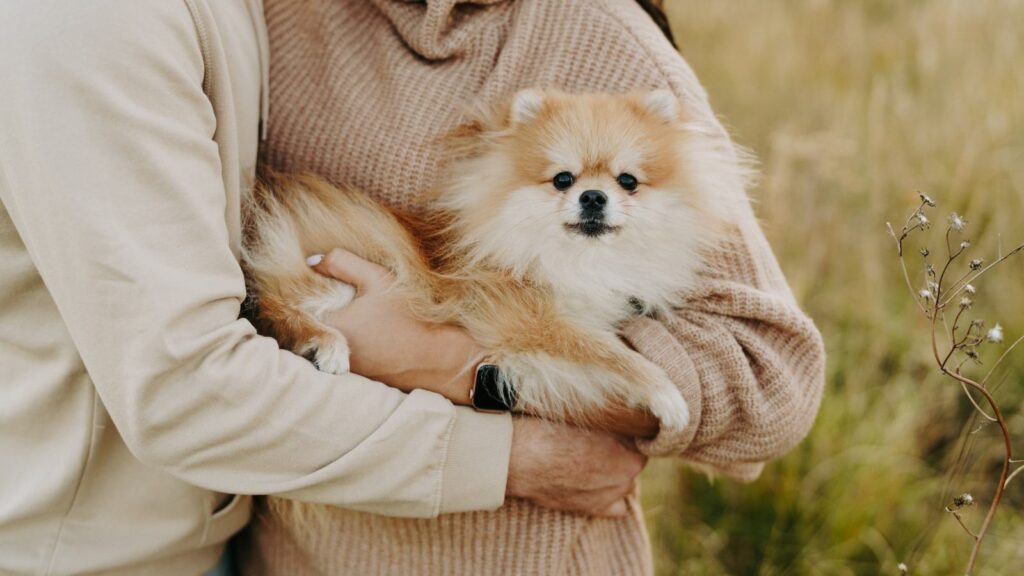 Size and Shape of the bed
When choosing a dog bed for your Pomeranian, the size and shape of the bed are important factors to consider. Pomeranians are a small breed, so you want to make sure the bed is appropriately sized for your furry friend. A bed that is too big can make them feel insecure, while a bed that is too small can be uncomfortable and restrict movement.
The shape of the bed is also crucial. Pomeranians love to snuggle and curl up, so a bed with a round or oval shape can provide a sense of security and comfort. However, if your Pomeranian likes to stretch out, a rectangular bed may be a better option. Ultimately, the size and shape of the bed should suit your Pomeranian's sleeping habits and preferences.
Materials and Construction
The materials and construction of the bed are important factors to consider. Look for beds made with high-quality, durable materials that can withstand regular use and won't easily tear or wear down over time.
Beds with reinforced stitching and sturdy frames are also great options to ensure your Pomeranian's safety and comfort. Additionally, consider materials that are hypoallergenic and free from harsh chemicals to promote your pup's health and well-being.
Support and Comfort Features
It's important to consider the support and comfort features. Orthopedic beds made of memory foam can provide excellent support for joints and muscles, especially for older dogs or those with arthritis. Look for beds with raised edges or bolsters that provide a sense of security and head and neck support. Additionally, beds with deep crevices can allow your pet to burrow and snuggle for added comfort.
Ease of Cleaning and Maintenance
Keeping your Pomeranian's bed clean is essential for their health and comfort. When choosing a dog bed, consider the ease of cleaning and maintenance. Look for beds with removable and machine-washable covers that are also durable enough to withstand frequent washing.
Learn how to wash a dog bed without a removable cover.
Beds with waterproof or water-resistant liners can make cleaning even more effortless by protecting the foam or filling from accidents and spills. Regular cleaning and maintenance of your Pomeranian's bed will ensure your furry friend's comfortable and healthy sleeping environment.
Conclusion
As a Pomeranian owner, it's important to choose a dog bed that provides your furry friend with comfort, support, and durability. When making your decision, consider the size and shape of the bed, the materials and construction, support and comfort features, and ease of cleaning and maintenance.
After considering key factors such as size, materials, support, and ease of cleaning, we recommend the Casper and Laifug dog beds as the best options for Pomeranians. Both beds offer high-quality construction and materials, ensuring maximum comfort and support for your furry friend.
Additionally, we highly recommend reading "Managing Common Pomeranian Behavior Issues" to address any behavioral issues that may affect your dog's comfort and overall well-being. By providing a comfortable and supportive bed and addressing any behavior issues, you can help your Pomeranian live their happiest, healthiest life.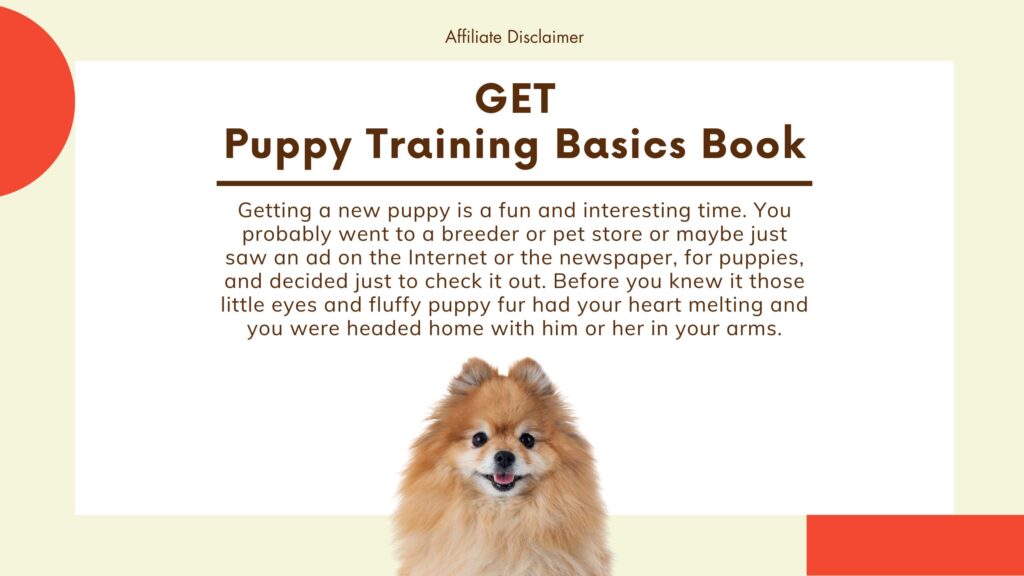 FAQs
What Size Bed Does A Pomeranian Need?
A bed with dimensions of 24 inches by 18 inches is a good size for a Pomeranian. However, it's always best to measure your dog first to ensure you get the right size. You want to make sure your Pomeranian can stretch out fully without hanging off the edge of the bed.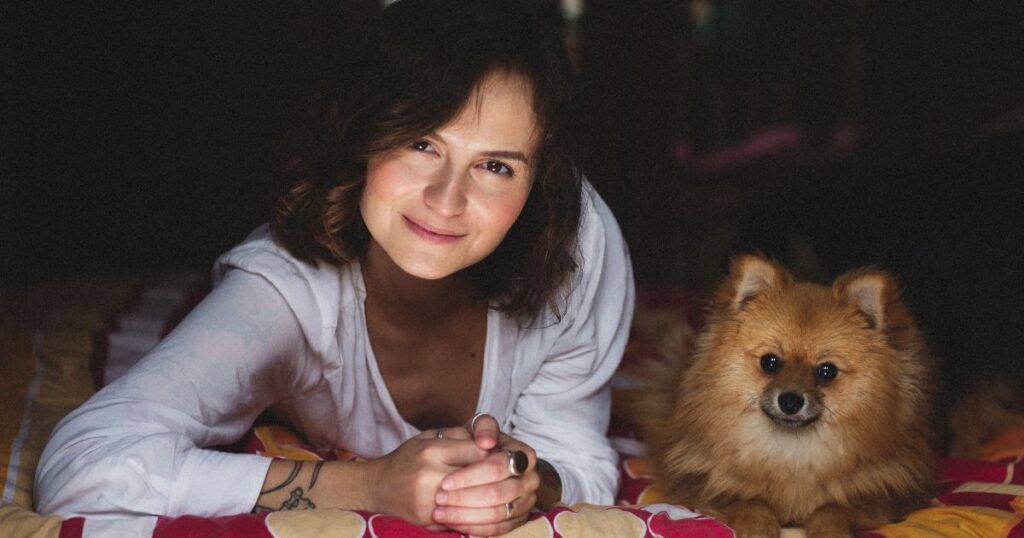 Does your Pom have allergies?
Pomeranians are known to be prone to various allergies, such as food allergies, environmental allergies, and flea allergies. Signs of allergies in Poms may include itching, scratching, hair loss, skin irritation, and gastrointestinal problems. It's essential to have your Pom checked by a veterinarian if you suspect any allergies to determine the cause and provide appropriate treatment.
How often should I wash my Pomeranian's bed?
As a general rule, it is recommended to wash your Pomeranian's bed at least once every 1-2 weeks. However, the frequency of washing may vary depending on factors such as how frequently your Pomeranian sheds or gets dirty, as well as any medical conditions they may have.
Learn how to wash dog beds with stuffing.
Regular cleaning and maintenance of your Pomeranian's bed not only keeps them clean and comfortable but also helps to prevent the buildup of bacteria and allergens that can affect their health.
Are orthopedic beds necessary for Pomeranians?
Orthopedic beds can provide additional support and comfort for Pomeranians, especially for those who may have joint issues or other medical conditions. However, they are not strictly necessary for all Pomeranians. If your Pomeranian is young and healthy, a regular dog bed may be sufficient. It's always a good idea to consult with your veterinarian to determine the best type of bed for your individual Pomeranian based on their specific needs and health conditions.