Boston Terriers are a popular dog breed known for their lively, friendly personalities. However, like all dogs, Boston Terriers need a comfortable place to sleep and rest. So, choosing the best dog beds for Boston Terriers is important for keeping them happy and healthy.
The compact size of Boston Terriers means their needs for a dog bed differ from those of larger breeds. Their beds need to be designed for small to medium-sized dogs. Boston Terriers are also prone to flat-face respiratory issues, so their beds should keep them cool and comfortable. Orthopedic and memory foam beds provide support for their joints and bones as they age.
In this blog post, we'll highlight the 5 best dog beds for Boston Terriers. We'll cover beds suited for training, travel, and senior dogs, and those that are ideal for relieving joint pain and arthritis, you might also be interested in our article on how often you should replace a dog bed.
5 Best Dog Beds For Boston Terriers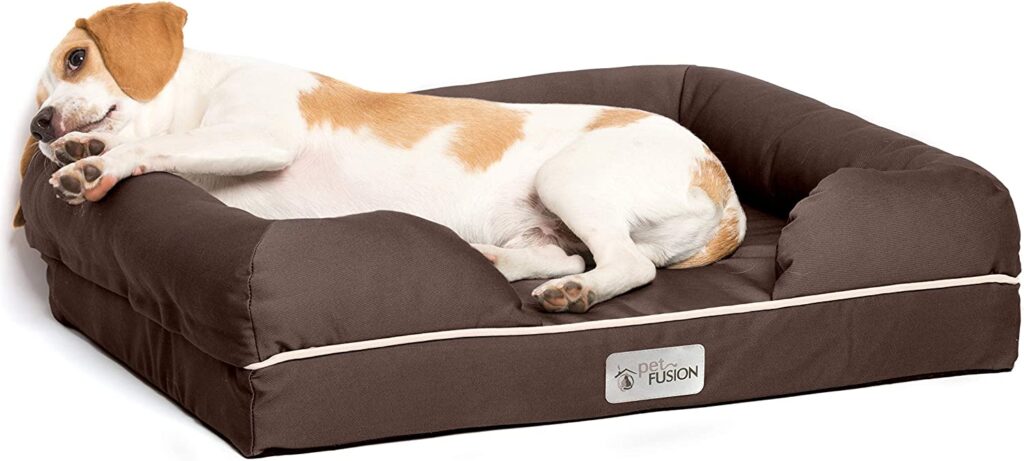 The PetFusion Ultimate Dog Bed is an excellent option for Boston Terrier owners who looking for a comfortable, supportive, and easy-to-maintain bed. This bed earns high marks for its premium orthopedic memory foam cushion, ideal for providing relief to Boston Terriers prone to joint pain and arthritis.
The smart bolster design offers security while the lower front opening allows easy access for less mobile dogs. The cotton cover is super soft, breathable, and removable for washing. Underneath is a waterproof liner that makes this bed suitable for outdoor use or dogs that occasionally have accidents. Check out our article on Boston Terrier Peeing in the House for helpful tips and guidance
Overall, the PetFusion Ultimate lives up to its name when it comes to quality materials, sturdy construction, and convenience features. It is the best Dog Bed for Boston Terriers suffering from sore joints or mobility limitations, the orthopedic foam and easy entry design are ideal. While expensive, it's a worthwhile investment for keeping aging or arthritic Boston Terriers comfortable and properly supported.
Pros
High-density memory foam
Orthopedic support
Pain relief & Mobility
Anxiety calming
Polyfilled bolster
Weight distribution
Waterproof & washable
Non-skid bottom
Cons
Pricey
Not for heavy chewers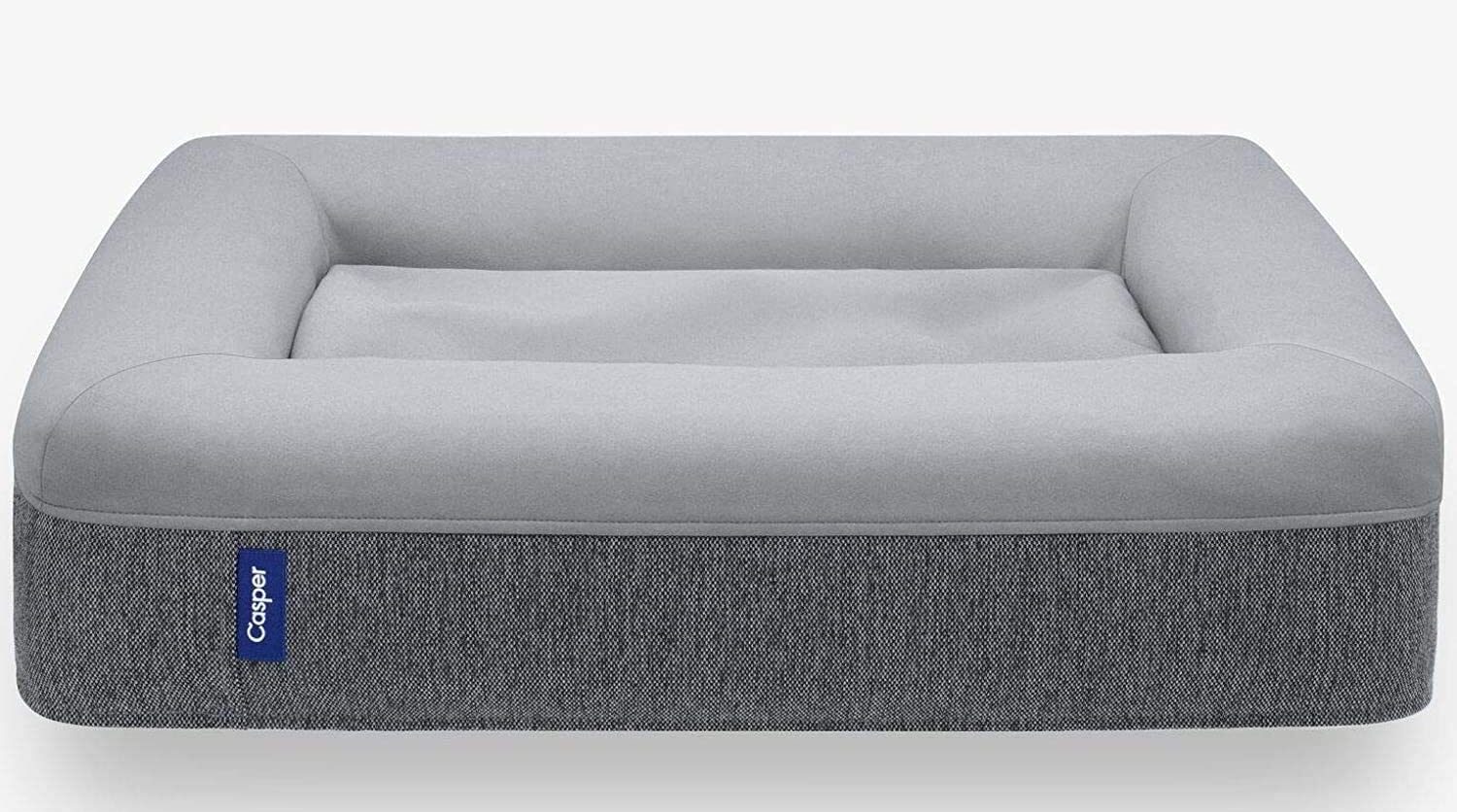 The Casper delivers premium comfort, a supported and best dog bed for Boston Terriers. This popular bed features pressure-relieving memory foam to cradle your dog's joints, providing therapeutic rest for conditions like arthritis.
The durable construction ensures this bed will maintain its structure and performance over years of regular use. Its sleek, minimalist design with three neutral color options allows it to seamlessly match any home's existing décor.
One of the most convenient features is the removable and machine-washable microfiber cover that makes cleaning pet accidents and hair a breeze. The soft microfiber material also keeps dogs cozy and comfortable while resisting wear and tear.
On the downside, the Casper does come with a higher price tag compared to basic cushion-style beds. However, given the outstanding quality, stylish design, and long-term durability, it's a worthwhile investment for any dog owner serious about their pet's comfort.
Overall, if looking for a stylish yet functional dog bed backed by superior materials and construction, the Casper is a premier choice. The combination of orthopedic support, easy care, and aesthetic appeal makes this a standout option for pampering your Boston Terrier.
Pros
Stylish home decor
Firm support for dogs
Variety of clean colors
Durable canvas-like cover
Plush suede-like top
Comfortable thick foam
Generous sleep area
Microfiber blended material
Easy-to-clean, machine-washable cover
Cons
Slightly higher price
Not ideal for heavy chewers
The Furhaven Orthopedic Dog Bed is designed with comfort and support in mind for small breed dogs like Boston Terriers. This bed features thick orthopedic foam to cushion joints and relieve pressure points. The contoured nest-like shape conforms to your dog's body for superior comfort.
With multiple sizes and colors to choose from, you can find the perfect fit for your Boston Terrier. The faux fur sleep surface is super soft and cozy while remaining gentle on sensitive skin.
One of the best features is the removable, machine-washable cover that makes cleaning accidents straightforward. The durable construction also ensures the bed will maintain its structure over years of use.
However, it's important to note this bed receives mixed reviews from owners. Some Boston Terriers may resist sitting on the angled foam surface. There are also rare reports of zipper breakage after repeated washing.
In summary, the Furhaven Orthopedic Bed is an excellent option for aging, arthritic, or injured Boston Terriers needing ample joint and muscle support. But the unusual shape may not work for all dogs. Overall, it's a high-quality therapeutic bed with convenient maintenance features at an affordable price point.
Pros
Comfort for Boston Terriers
Thick orthopedic foam
Conforms to dog's body
Multiple sizes and colors
Soft faux fur surface
Machine-washable cover
Durable construction
Affordable price
Cons
Some dogs resist surface
Rare zipper breakage
The Kuranda Elevated Dog Bed is a top choice for Boston Terriers needing extra chew resistance and joint support. The durable, aircraft-grade aluminum frame is able to withstand even the most determined chewers while providing an orthopedic design that reduces pressure on joints.
The elevated platform allows air to freely circulate underneath, keeping your Boston Terrier cool in summer and away from cold floors in winter. This makes it ideal for both indoor and outdoor use year-round. The fabric is also UV-resistant and easy to clean. Explore the benefits of the elevated dog bed.
With multiple sizes and color options available, you can find the perfect fit for your Boston space. Just keep in mind assembly is required, which may be inconvenient to some owners.
Overall, the indestructible design and cooling elevated platform make this Kuranda bed a versatile choice for athletic Boston Terriers who love being outdoors. It provides durable comfort and support whether used inside or outside the home. The high-quality materials ensure it will last for years to come.
Pros
Chew-resistant
Joint support
Durable aluminum frame
Orthopedic design
Air circulation
Indoor and outdoor use
UV-resistant fabric
Multiple sizes/colors
Long-lasting
Cons
Assembly required
Not suitable for all dogs
With its round donut shape and bolstered edges, the Best Friends by Sheri dog bed is an excellent option for providing comfort and security for Boston Terriers. The 23-inch size is perfect for curling up smaller breed dogs under 25 pounds.
This bed features deep crevices and high-loft polyfill to allow dogs to burrow in and experience calming relief from joint pain or anxiety. The faux shag fur fabric is incredibly soft, gentle on the skin, and retains warmth well.
Made in the USA from pet-safe materials without harsh chemicals, the bed is designed with your Boston's health in mind. It's also completely machine washable for easy care. With 15 colors to choose from, it can blend seamlessly into any room's decor.
Some potential drawbacks are that the bolsters may flatten over time and the whole bed may fall apart if washed too roughly. So gentle machine washing is recommended.
Overall, the supportive donut shape, ultra-soft fur, and calming nest design make this an excellent choice for providing security and therapeutic comfort for Boston Terriers. It allows them to sleep soundly, wake up refreshed, and give a calming environment. Explore more ways to calm your Boston terriers
Pros:
Comfort and security
Ideal size
Deep crevices
Calming relief
Soft shag fur
Pet-safe materials
Machine washable
Versatile colors
Cons:
Bolsters may flatten
The bed may fall apart
Gentle machine washing advised
Buying Guide to Choose the Best Dog Beds for Boston Terriers
Choosing the best dog beds for Boston Terriers is essential for their happiness and well-being. Here are some key tips to consider when choosing the dog bed for your Boston. Be sure to read our article on How to Choose the Right Dog Bed.
Size
Make sure to pick a bed that allows your Boston Terrier to fully stretch out and turn around comfortably. It should not be too large or too small. Measure your dog in their normal sleeping position to determine the ideal dimensions. Smaller beds are best for this petite breed. Learn more about When Do Boston Terriers Stop Growing?
Cushioning and Support
Boston Terriers can experience joint problems as they age, so prioritize cushioning and support. Orthopedic or memory foam beds provide optimal comfort and relieve pressure on sore joints. Less mobile senior dogs need thicker, denser foam for adequate support.
Insulation
Since Boston Terriers have short coats, provide ample insulation during colder months. Use beds with high walls, pillows, and ample padding to retain heat. In hot climates, cooling gel beds help prevent overheating. You might be interested in How Do Heated Dog Beds Work?
Durability
Durable, chew-resistant materials will maintain their structure over time. Avoid flimsier beds that dogs can easily tear and destroy. Sturdy construction supports years of comfortable use.
Material
Memory foam beds provide superior joint relief and healthy sleep for Boston Terriers. Other options like pillows, cotton, and faux fur suit different needs like warmth, softness, and breathability. If you're interested in using eco-friendly bedding materials like pine straw for your dog's comfort, you can explore our article on the Benefits of Using Pine Straw For Dog Bedding.
Style and Comfort
Consider your dog's personality when selecting shape and style. Curled sleepers like round donut beds, stretch-out sleepers need a flat mattress, and burrowers need options with high walls and crevices. Optimize their comfort.
check out our article on How to Wash a Dog Bed with Stuffing for a step-by-step guide.
Conclusion
The Casper Dog Bed and PetFusion Dog Bed stand out as top versatile and well-suited options for Boston Terriers based on their features and benefits.
When making your selection, be sure to take into account the key buying factors covered in this guide – size, cushioning, insulation, durability, materials, style, and your dog's unique comfort preferences.
Thoroughly researching and considering these essential criteria will lead you to the ideal dog bed that meets your Boston's needs and keeps them cozy and content. This guide aims to synthesize expert insights with hands-on experience to inform your purchasing decision.
At the end of the day, Boston Terriers cherish a space they can call their own. With an understanding of their compact size, potential joint issues, short coat, and individual personality, you can provide the perfect dog bed for your beloved Boston to relax in comfort and enjoy a restful sleep. Be sure to check out our article on the Best Cheap Dog Beds 2023.
FAQs about the best dog beds for Boston Terriers:
What kind of beds do Boston Terriers like?
Boston Terriers often enjoy round or enclosed beds that provide a sense of security and warmth. Cushion beds with thick foam or downfilling suit their small size. Orthopedic and memory foam beds also work well to support their joints as they age, explore our article on Why do dogs like dog beds?
What size bed should I get for a Boston Terrier?
Look for a bed about 24 inches wide and 18 inches long for an average-sized Boston Terrier to stretch out comfortably. Measure your dog's sleeping to determine the perfect dimensions. Avoid a bed that's too large or too small.
Do Boston Terriers like to sleep under blankets?
Yes, it's common for Boston Terriers to burrow under blankets since they get cold easily. Look for a bed with high walls, a domed top, or side pillows to allow your Boston Terrier to snuggle underneath. Using a blanket over their bed gives them a cozy, enclosed space.
How long do Boston Terriers sleep?
Boston Terriers sleep an average of 12-14 hours per day. As puppies, they may sleep up to 18 hours. Boston Terriers are energetic when awake but do need plenty of quality rest time.
Why do Boston Terriers sleep so much?
It's normal for the breed to sleep around 50% of the day. Their short snouts can cause breathing issues, so plenty of rest is needed. Boston Terriers also have high energy in spurts and sleep recharges them. Providing a comfortable bed supports their sleep needs.
Are Boston Terriers chewers?
Yes, Boston Terrier puppies in particular are prone to chewing. Make sure to choose durable beds and remove access when unsupervised. Monitoring this behavior and providing chew toys helps protect their bed.