Boxer dogs are energetic and affectionate companions known for their loyalty and playfulness. However, they have unique needs, especially when it comes to rest and sleep. Providing them with a comfortable and supportive dog bed is essential for their overall well-being.
Selecting the right dog bed for Boxers is crucial for several reasons. Firstly, Boxers are prone to joint and muscle issues, so a bed with orthopedic support can help alleviate discomfort and promote better health. Secondly, their high energy levels demand a durable bed that can withstand their playfulness and occasional chewing habits. Lastly, a well-chosen bed can provide a cozy retreat where your Boxer can relax and feel secure.
In this blog, we aim to help you find the best dog beds for Boxers. We have researched and narrowed down the top 6 dog beds that cater to the specific needs of Boxers. From orthopedic memory foam beds to cooling options, we have considered various factors to ensure your loyal companion gets the comfort and care they deserve. Let's dive into the top recommendations for Boxer dog beds!
6 Best Dog Beds For Boxers
"If you're looking for a comfortable and budget-friendly option, check out our list of the best affordable dog beds under $40 and $50!"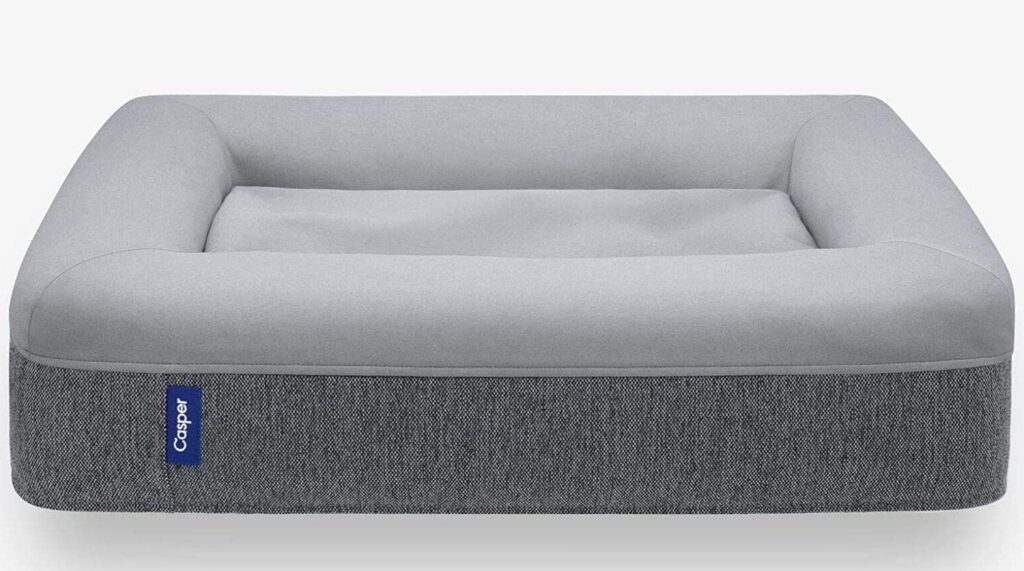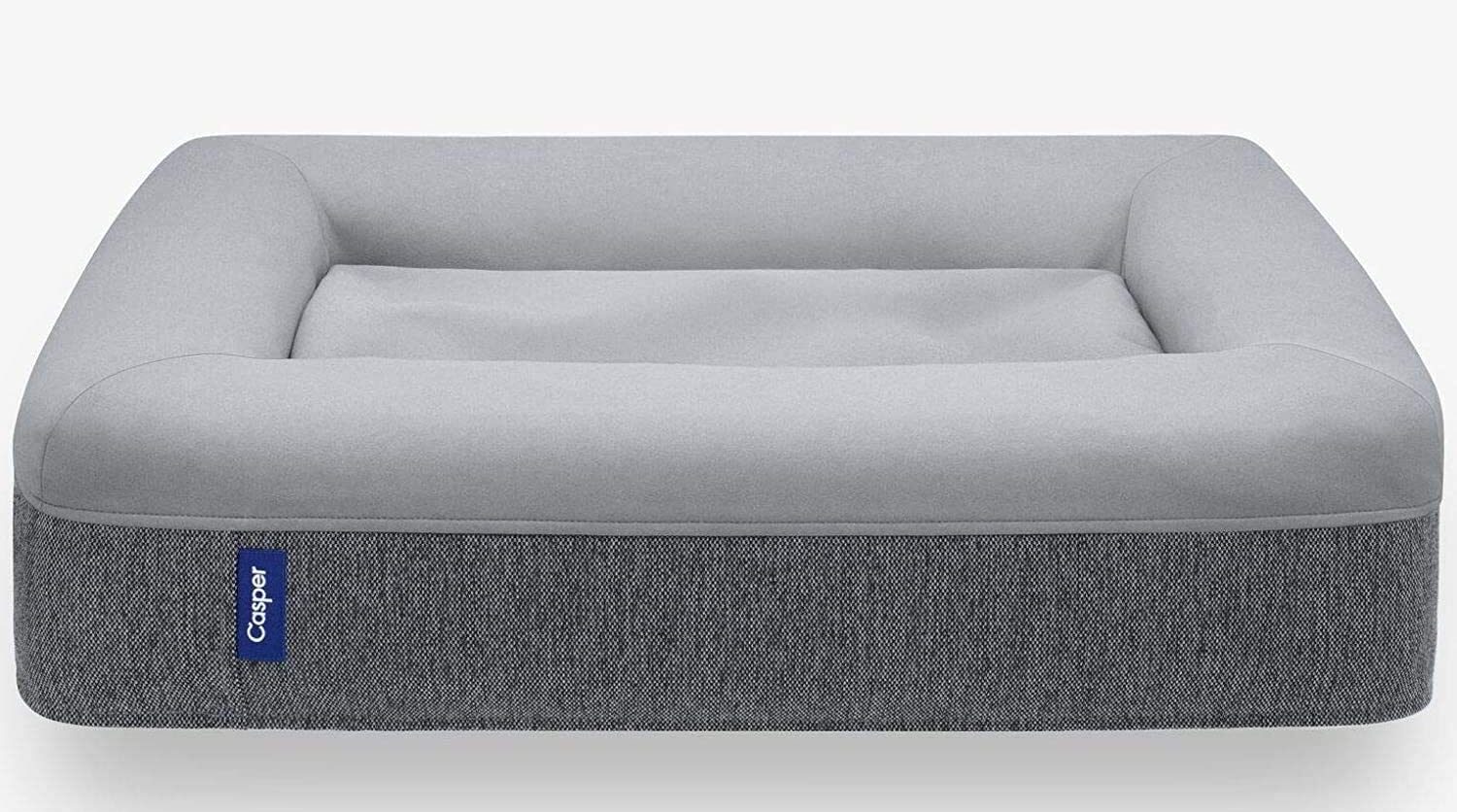 The Casper Plush Memory Foam Bed is one of the best dog beds for Boxers. This bed is designed to provide both comfort and durability, catering to the needs of your energetic and playful pup.
Boxers love to dig and scratch before settling down, and Casper understands this behavior. It features excess material on top, allowing your Boxer to create its ideal sleeping spot without damaging the bed.
The bed also includes supportive foam bolsters, providing a safe space for your Boxer to rest their head and feel secure. The durable microfiber blended material is resistant to rips, ensuring it can withstand your Boxer's playful nature.
Cleaning the bed is a breeze, thanks to its removable and washable cover. It is impenetrable to fur and slobber-resistant, making maintenance quick and easy. Tough stains can be treated with an enzyme-based spot cleaner.
Pros
Dig and scratch-friendly design.
Supportive foam bolsters.
Durable and rip-resistant material.
Removable and machine washable cover.
Fur and slobber-resistant.
Cons
May be expensive for some.
May not fit larger Boxers.
Not suitable for aggressive chewers.
Big Barker is the second choose best dog bed for Boxers. Treat your Boxer to the ultimate comfort with the Big Barker Dog Bed. This bed is specifically designed for large dogs and offers unmatched quality and support.
Featuring thick, quality-assured foam and a soft microsuede cover, it's the perfect choice for orthopedic dog beds for large dogs. Clinical studies have shown that these beds reduce joint pain and improve mobility.
The bed's headrest provides extra support for your Boxer's head while they relax on the spacious surface. Cleaning is a breeze with the machine-washable, smell-resistant microsuede cover that can be easily removed.
The intuitive zippered design and sleek seams ensure maximum comfort for your pup, while the durable microsuede material adds a touch of style to your home.
Made in the USA with sustainably sourced foam, this bed is built to last. Backed by a 10-Year Warranty from Big Barker, you can rest easy knowing your Boxer will enjoy years of comfort.
Pros
Unmatched comfort and support.
Reduces joint pain.
Soft and washable microsuede cover.
Thoughtful headrest design.
Durable and long-lasting construction.
Cons
May be expensive for some.
Limited color options are available.
Some dogs may prefer different materials.
This is also great to choose the best dog beds for boxers. Give your Boxer the ultimate comfort and support with the PetFusion Ultimate Dog Bed. This orthopedic bed is designed to improve your dog's overall health, mobility, and energy levels.
Featuring a solid 4-inch memory foam base, it provides superior comfort and reduces joint pain, making it perfect for Boxers with arthritis or other joint issues. The bed also acts as a calming space for dogs with anxiety, promoting relaxation and well-being.
The support bolsters are generously filled with recycled materials, making it an eco-friendly choice. The durable polyester and cotton twill cover offers both comfort and durability.
With its smart design, the bed provides optimal support and security with its base and bolsters. The water-resistant and tear-resistant cover ensures long-lasting use, while the non-skid bottom keeps the bed in place. It seamlessly blends into your home decor.
You can have peace of mind knowing that the memory foam used in this bed is Certi-PUR-US certified, free from harmful substances like mercury, lead, formaldehyde, phthalates, and ozone depleters. It also meets European REACH safety standards, ensuring the well-being of your dog.
Pros
Superior comfort and support.
Reduces joint pain.
Smart design for optimal support.
Water-resistant and tear-resistant.
Certi-PUR-US certified memory foam.
Easy setup and cleaning.
Cons
Requires more space due to size.
Not suitable for aggressive chewers.
The Furhaven Dog Bed is designed with the pet's comfort in mind. When you consider the comfort and support then this is the best dog beds for boxers. Its sloping contoured form factor provides superior ergonomic support for dogs, promoting optimum orthopedic comfort. With an open mattress design, it offers ample room for dogs to sleep in various positions.
The main sleep surface is lined with thick, plush curly faux fur, creating a cuddly and gentle environment for your Boxer to snuggle in. The solid orthopedic foam is dense and thick, ensuring maximum loft and sturdy comfort. The contoured form factor further enhances orthopedic support for the neck, back, hips, and joints, alleviating discomfort and encouraging restful sleep.
Cleaning the bed is a breeze, as the removable cover is completely machine washable. For specific washing instructions, please refer to the hang tag and/or seam label. Additionally, the product comes with a 90-day limited coverage against material defects, and it may qualify for the 60-day Worry-Free Program. However, please note that purchases from unauthorized third-party resellers may not be covered by Furhaven.
Pros
Ergonomic and supportive design.
Thick and plush faux fur.
Orthopedic foam for joint support.
Ample sleeping space for Boxers.
Machine washable cover.
Cons
Foam expansion time is required.
Not suitable for aggressive chewers.
The Kuranda Elevated Outdoor Bed is the original chew-proof the best dog beds for Boxers. Designed in Maryland in 1995, it has stood the test of time with its unmatched design, materials, workmanship, and customer service.
When it comes to design, Kuranda's bed stands out. It features oversized rails that are larger than those of its competitors, providing exceptional protection to the fabric within the frame. The orthopedic design ensures long-lasting and even support for your dog's joints, promoting their overall comfort and well-being.
The materials used in this bed are of the highest quality. Aircraft-grade aluminum and high-strength PVC construction ensure durability and resistance to rust. The premium fabric used is abrasion-resistant, UV-treated, and easy to clean. Stainless steel fasteners further contribute to the bed's sturdiness and longevity.
Pros
Original chewproof design.
Oversized rails for fabric protection.
Orthopedic support for joints.
Durable aluminum and PVC construction.
Premium, easy-to-clean fabric.
Excellent customer service.
Cons
Designed primarily for outdoor use.
Assembly required.
6. The Best Friends by Sheri Calming Donut Bed – Improve Boxer Sleeping Experience
The Best Friends by Sheri Calming offers ultimate comfort and supported best dog beds for boxers. Its round shape and raised rim create a secure and cozy environment that promotes better sleep and relaxation. The luxurious vegan faux shag fur adds a touch of elegance and warmth, while the deep crevices allow your pet to burrow and experience a restful slumber.
The bed's Airsoft fibers ensure long-lasting loftiness, providing superior comfort for your furry friend. With its versatile design and natural colors, this bed seamlessly blends into any room decor. The water and dirt-resistant bottom protects your floors from accidental messes, while the removable shells on larger sizes make cleaning a breeze.
Rest assured, the materials used in this bed have been tested for safety, meeting the standards set by the Consumer Product Safety Commission. It is free from flame retardants, formaldehyde, harsh dyes, and skin-irritating chemicals.
Give your boxer the best sleep experience with the Best Friends by Sheri Calming Bed, ensuring their comfort, well-being, and happiness.
Pros
Calming donut shape promotes better sleep.
The raised rim provides head and neck support.
Super soft filling offers joint and muscle pain relief.
Luxurious vegan faux shag fur for added comfort.
Deep crevices allow pets to burrow and rest.
Airsoft fibers maintain loftiness for extended use.
Versatile design complements any room decor.
Water and dirt-resistant bottom for easy cleaning.
Cons
May not be suitable for dogs who prefer flat beds.
Faux fur may shed over time.
Not recommended for aggressive chewers.
Understanding Boxer's Sleeping Habits and Unique Needs:
When it comes to understanding your Boxer's sleeping habits, it's essential to recognize their distinct patterns and preferences. These incredible dogs have their own unique ways of catching some Z's. Here's what you need to know:
Sleeping Patterns
Boxers are known to be active and playful dogs, but they also enjoy their snooze time. On average, Boxers sleep for about 12 to 14 hours a day, which is more than many other dog breeds. They appreciate having a cozy spot to rest and recharge.
Proper Support and Comfort
Due to their muscular bodies, Boxers require proper support and comfort when it comes to their sleeping arrangements. Their well-defined muscles can benefit from a bed that offers adequate cushioning and joint support, especially if they are older or prone to joint issues. Look for beds with memory foam or orthopedic features that can alleviate pressure points and provide optimal comfort.
Durability and Playfulness
Boxers are known for their high energy levels and playfulness, so it's crucial to choose a bed that can withstand their enthusiastic nature. Opt for beds made from durable materials that can handle rough and tumble playtime without easily tearing or getting damaged. Consider beds with reinforced seams or sturdy construction that can withstand their active antics.
Additional Tips for Maximizing Comfort and Care
Now that you've found the perfect dog bed for your Boxer, let's dive into some extra tips to ensure their comfort and care are taken to the next level. These simple suggestions can make a big difference in providing the ultimate resting experience for your furry friend:
Cleaning and Washing Instructions
To keep your Boxer's bed clean and fresh, it's important to follow proper cleaning and washing instructions. Check the manufacturer's recommendations for the specific bed you have chosen. Some beds may have removable covers that are machine washable, making the cleaning process a breeze. Others may require spot cleaning or gentle hand washing. By keeping the bed clean, you create a hygienic and pleasant sleeping environment for your Boxer.
Waterproof Covers and Removable, Machine-Washable Covers
Accidents happen, whether it's a spilled drink or a little accident from your furry pal. Consider using a waterproof cover for the dog bed to protect it from any mishaps. Additionally, choosing a bed with a removable, machine-washable cover can be a lifesaver. It makes cleaning quick and easy, ensuring your Boxer always has a fresh and clean place to rest. Learn to wash dog beds with stuffing.
Creating a Cozy Environment
Besides the bed itself, you can enhance your Boxer's sleeping experience by creating a cozy environment around the bed. Place the bed in a quiet and comfortable area of your home, away from high traffic or noisy areas. Add soft blankets or pillows nearby to give your Boxer the option of extra snuggle spots. Additionally, consider using calming scents, such as lavender or chamomile, to create a soothing atmosphere that promotes relaxation.
Conclusion
Selecting the right dog bed for your Boxer is more than just a cozy spot for them to rest. It plays a crucial role in their overall health and well-being. Boxers are prone to joint issues and muscle discomfort, so opting for a bed with orthopedic support, like the Casper bed, can make a significant difference in their comfort and mobility. Additionally, their lively nature calls for a durable option, and the Big Barker bed fits the bill with its sturdy build and chew-resistant materials.
After thorough research and consideration, we have narrowed down the top 6 dog beds for Boxers. Each bed offers unique benefits to cater to your Boxer's specific needs. From the memory foam comfort of the Casper bed to the luxurious support of the Big Barker, these beds have been chosen with your loyal companion in mind. Remember that a well-rested Boxer is a happy Boxer!
Your Boxer has been by your side through thick and thin, and they deserve the best care and comfort possible. Investing in a high-quality dog bed, such as the Casper and Big Barker, shows your love and dedication to their well-being. A good night's sleep can improve their overall mood and health, making them even more delightful companions. So, treat your loyal Boxer to the bed they deserve and watch them thrive in comfort and happiness!
Give your Boxer the gift of a cozy retreat and enjoy the rewards of a happy and contented four-legged friend. Here's to many more joyful moments with your Boxer, all thanks to their new, premium dog bed! Treat better with the dog with our dog training guide.
FAQs
Are Memory Foam Beds Suitable for Young Boxers?
Absolutely! Memory foam beds are a great option for young Boxers. They provide excellent support for their growing bodies and developing joints. The memory foam conforms to its shape, ensuring maximum comfort during those puppy naps. It's an investment in their long-term health and happiness!
How Often Should I Clean My Boxer's Bed?
Ah, cleanliness is vital for our furry friends! I recommend cleaning your Boxer's bed at least once a week. Regular washing helps keep it fresh, free from dirt, and odor-free. Check the manufacturer's instructions for specific cleaning guidelines. Oh, and if your Boxer loves a good mud romp, you might want to clean it more often! If you have worn or torn one then check how to replace the dog bed.
Can I Use a Bed Designed for Large Breeds for My Boxer?
Absolutely! Boxers are known for their playful spirit and need a sturdy bed that can handle their energy. Beds designed for large breeds, like the Boxer, are a paw-some choice! Look for ones that provide ample space for your Boxer to stretch out and relax. Remember, comfort is the key to a happy Boxer!
What is the Best Bed for a Boxer Dog?
Ah, choosing the best bed for your Boxer depends on their individual needs and preferences. For Boxers with joint or muscle issues, an orthopedic memory foam bed, like the Casper dog bed, can work wonders. On the other paw, the Big Barker bed is perfect for its durability and support for the active Boxers out there. Go with what suits your Boxer's needs best, and you'll see that wagging tail of approval!
What Size Dog Bed Do I Need for a Boxer?
To ensure your Boxer has enough room to snuggle and snooze, go for a bed that's at least 36 inches in length. Boxers like to stretch and sprawl, so a larger bed might be even better if you have the space. Remember, the comfier, the better!
What Size Dog Bed for a Large Boxer?
For larger Boxers, you might want to opt for a bed that's around 42 inches in length. They'll have more space to lounge around and get cozy. Make sure they have enough room to turn and flop, 'cause that's what Boxers do best!
What Type of Dog Beds Do Dogs Like Best?
Ah, every doggo has its preferences! Some love the luxurious feel of memory foam, while others enjoy the supportive cushion of orthopedic beds. Oh, and don't forget the pups who adore the cozy embrace of donut cuddler beds. The best way to find out is to let your Boxer try different beds and see which one they love the most. Let their tail wagging be your guide! Why do dogs like to sleep in bed?
Is a Boxer a Small or Medium Dog? Is Boxer Medium or Large?
Well, my friend, Boxers are considered a medium to large breed. They're full of energy and personality, making them perfect companions for an active lifestyle. Keep 'em happy and healthy with a bed that fits their size – not too small, not too big, but just right for your lovable Boxer!