Learn how to wash a cozy cave dog bed in simple steps. If you have the Dog Bed then you know how much care is required for this bed for your furry friend. This bed is required regular necessary cleaning to keep it fresh and hygienic for your pet. In this article, we'll learn about how to wash a cozy cave dog bed step by step.
Learn how to wash dog beds with stuffing.
Snoozer Cozy Cave Bed Design
The snoozer cozy cave dog bed especially is designed to provide comfort and safety for your pet. This bed has a filled cushion and a cover on the top. It has a plastic pipe/tube which holds the top cover and it makes a cave bed. The size of this bed is normally smaller than others dog beds. But still enough for most large breeds and they comfortability sleep and snuggle. For large breeds, make sure you need to remove the plastic pipe/tube. After removing the pipe, it does not give the cave look so recommend that do not buy it for large dogs.
How to wash a cozy cave dog bed?
Before washing the dog bed, you need to make sure that not any dirt or debris on the bed so remove this first. The second thing is you must know the manufacturer's washing instructions and the fabric material. Let's get started with easy steps.
Remove the pipe/tube that holds the top cover. In the middle of the right or left corner has located that hole. Find it after removing the pipe. Find the zip or button, maybe it has at the bottom of the bed, and find then unzip it.
Put the inner cushion in a safe place because it is not washable. We wash only the cave bed cover.
Wash the cover in the washing machine at 30 degrees C. But before making sure, the bed cover is washable in the washing machine. Wash the cover with mild detergent.
After washing the dog cover, dry it in the fresh air.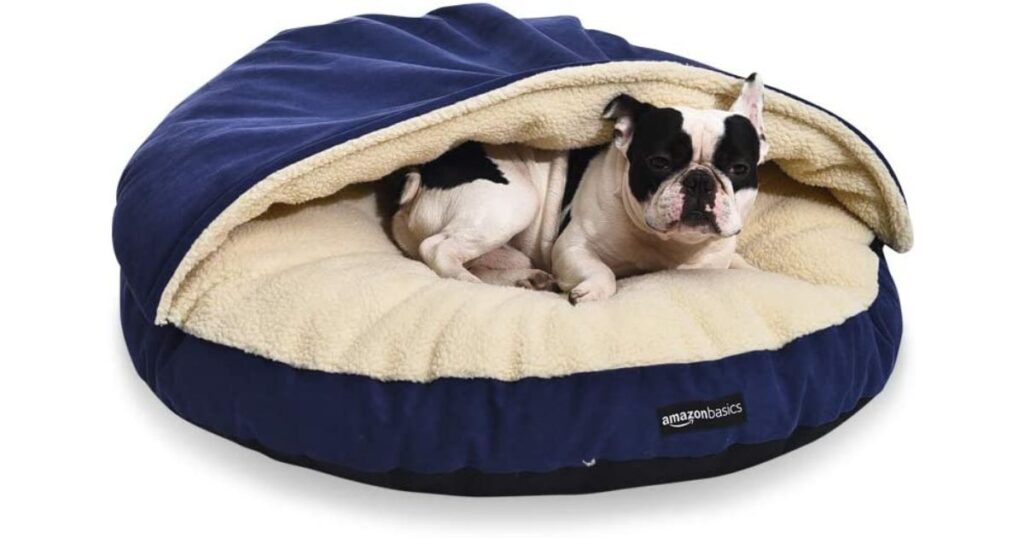 Related FAQs
Can you dry this in the Tumble dryer?
No, don't dry the cave bed cover in the dryer after washing. It must need fresh air for drying. It is the best and safest method for keeping the bed's cover healthy and safe for your pet.
How Often Should I Wash My Cave Dog's Bed?
Every pet owner has this question in mind "How Often Should I Wash My Cave Dog's Bed". So, Wash your dog's bed within 1 to 2 weeks but you need to keep clean or vacuum it on daily bases. If you have the too older dog bed then you need to replace the bed.
Can you wash the dog's bed with detergent?
Yes, you can wash dog beds with detergent. But you need to make sure that safe for dogs and do not contain any harmful chemicals. Harmful detergents can affect badly on the environment and dog's health.
Why do dogs like cave beds?
Dogs like to sleep on the bed. Cave dog bed provides a sense of security and privacy for dogs. They can feel safe, comfortable and snug inside their little cave.
How do I know if the Cave Dog Beds are of good quality?
There are a few things you need to look for to determine the best cave dog bed. Check the stitching and seams to make sure they are even and well-constructed. Look at the materials used – they should be high quality and durable. Ask around for recommendations from friends or family who have purchased similar products. We already recommended the best dog beds.